Data Center Network Node on a Chip
As data centers process ever larger volumes of traffic, highly efficient, compact, and low cost switches are needed to move the data between computing resources. Optical switching has very high capacity, but in the past has been too expensive and bulky for data centers. Recently the CIAN team at UCSD led by prof. Shayan Mookherjea realized an optical switching node on a single chip, including switches, filters, and control and monitoring components. In fact, the chip is the node for the MORDIA data center architecture first introduced by the CIAN center in 2012. Several rack shelves of the original setup have now been integrated into a single chip—moving optical switching from bulky components to highly scalable silicon photonic chips, with the potential to enjoy the scalability and cost benefits of silicon electronic chips.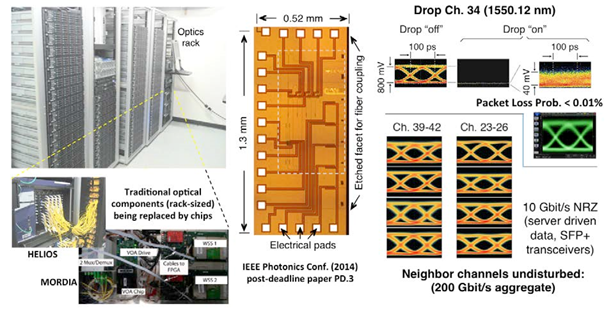 Impact and Benefits
 Traffic inside data centers is growing at much high rates than the traffic in and out of the data centers and this means more networking gear is required to support that traffic. While computing hardware benefits from efficient and cost effective scaling from Moore's law electronics, the optical gear does not follow the same trends. Moving the optical networking gear to a scalable platform such as photonic integrated chips will provide a cost effective way to support this increasing data center traffic. This means data centers can continue to deliver higher quality video and perform more cloud and data processing at higher speeds.
Explanation and Background
 The network node chips were the result of a unique collaboration between the CIAN ERC and Sandia National Labs to develop silicon photonic foundry capabilities—scalable manufacturing for photonic chips. The highly successful first set of chips included the switching node with an optical channel monitor, add/drop multiplexers and switches. The chip was demonstrated in network using 20x10 gigabit per second data signals, transmitted with fidelity. The 0.52x1.3 mm chip is shown in the Figure along with the CIAN data center testbed and the hardware that it was used to replace. using data modulated signals.